PTFA is a volunteer led charity that uses different ways to raise money to enrich the children's time at school. This money is used in a variety of ways including buying playground equipment, supporting topic work and WOW days, helping with pets and clubs, providing water bottles for new Reception children and momentos for Year 6s when they leave our school. All parents are members of our PTFA and can come along to meetings (usually twice a term) to discuss any upcoming events, new fundraising ideas and items requested. It is a friendly relaxed atmosphere and all are welcome.
To view the PTFA privacy notice, please click here.
For more information email us at lcpsptfa@gmail.com
LCPS PTFA – AGM Jan 2020

Chair's annual report.
After three years in the post, this will be my last annual report as Chair and I am pleased to say that we have had another successful year both for fundraising and for spending! Plus we have provided some lovely, fun activities for the children which is an important part of our role.
Over the past year we have basically continued with all our usual events such as the Halloween parties, the pancake toss, summer fair, chocolate tombola and the various pop-up shops. Income has generally been similar but profits from the pop-up shops has dropped mainly due to the increase in costs of buying in items. Also because of the problems with the school building structure from last Easter we lost access to our stock of prizes and tuck shop toys so had to buy many new summer fair and Halloween items. Maybe it is also time for some new inspiration, activities and enthusiasm. In spite of saying this we still raised almost £5000 last year and spent out on a large range of things including the inflatable assault courses (which were accessible to all our students), trip subsidies, part of the panto costs, equipment for the Rainforest room and other items to support the SEN children, upkeep of school pets, help with WOW days, new library books for KS2, the Year 6 leavers prom, money towards Christmas parties for all the children and prizes for competitions, maths and literacy. Neela (Star Tree Studio) kindly designed a new sign for the Friendship Bench from pictures done by the children and it is now on anodised aluminium which should last a lot longer. We also paid for an art teacher to come in and explore many types of printing which not only ensured that that part of the curriculum was covered but was something the children enjoyed. We hope we have provided things to enhance learning, some things that have been fun for the children directly and a small reduction in the amount of monetary contributions school asks of parents. Since we often get approached to fund things between meetings we are this year trialling giving school a donation of £1000 so the school leadership team can decide on such "urgent" funding items themselves – we will assess how well this has worked at the end of the school year.
Another PTFA project is to promote environmental awareness in school. We have greatly reduced the amount of plastic cup drinks we use and moved to serving squash in paper cups; we are collecting crisp packets and writing materials to be recycled with Terracycle. And Parentmail, as well as making advertising events and other communications with parents much easier, vastly reduces the amount of paper we use.
We could not run all our events without our small band of reliable, generous helpers and it was nice to see a few new faces helping with events too. We are also very grateful for the help and support of the staff, without whom our events would not happen. As always I must mention my fellow officers Lucy and Lauren (and her husband Mark) for all their hard work with the admin side of things and Katy Warburton who has been there to lend a hand with organising refreshments, counting money, buying pop-up shop items and being a great listener when I need a grumble!
My daughter will be leaving LCPS in the summer (although it hardly seems any time at all since she was moving up from nursery to Reception!) so I am standing down. I have really enjoyed my time with the PTFA – it has been a lot of hard work but also much fun, friendship and feelings of accomplishment – and for me the best reward is the children's faces when they are enjoying a party, playing on the playground equipment or going down the slide of the inflatable.
I hope the PTFA will carry on the good work and flourish under a new Chair.
Thank you all for your support.
Jackie Barber

Newsletter
PTFA Autumn News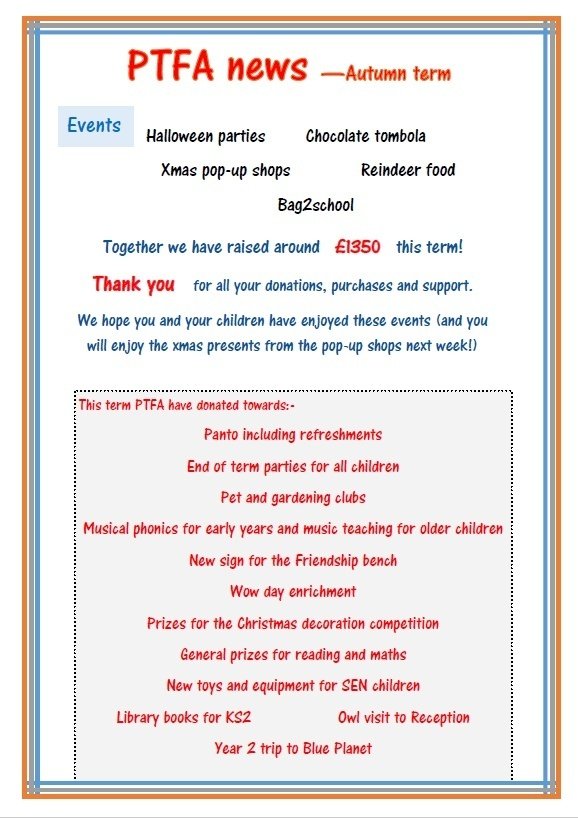 Events