PTFA is a volunteer led charity that uses different ways to raise money to enrich the children's time at school. This money is used in a variety of ways including buying playground equipment, supporting topic work and WOW days, helping with pets and clubs, providing water bottles for new Reception children and momentos for Year 6s when they leave our school. All parents are members of our PTFA and can come along to meetings (usually twice a term) to discuss any upcoming events, new fundraising ideas and items requested. It is a friendly relaxed atmosphere and all are welcome.
To view the PTFA privacy notice, please click here.
For more information email us at lcpsptfa@gmail.com
LCPS PTFA – AGM Jan 2018

Chair's annual report.

Another year has flown by! As Chair I have found things to be a little easier as jobs have become more familiar (plus we have kept largely to the same events as in the previous year). We had a new Treasurer and Vice-treasurer elected at the last AGM and whilst it always takes a little time to settle in and learn the ropes, I'm happy our accounting is in good hands. We've also taken the opportunity to update some of our protocols and methods so hopefully things will be a bit simpler in the coming year. And I must add a big thank you to Lauren (and husband Mark) for all the hard work they have done for us, whilst running their own business and looking after their family – we do appreciate it!
Our "usual" events did well, including the sponsored Pancake Toss, Mothers' and Fathers' Day pop-up shops, Pots of Pennies and Halloween Parties. The Summer Fair was well supported and successful. The moorland fires meant the Fire Engine, Mountain Rescue Team and Territorial Army couldn't attend as planned and the Band were playing elsewhere but the Musical Theatre group put on a great display for us, the children had fun and we raised around £1000. Many thanks to Jim Caygill for doing much of the organisation, local businesses who donated raffle prizes and to the school staff who ran stalls and are so supportive of the PTFA. The Christmas events (Chocolate Tombola, pop-up shop and selling reindeer food) make for a hectic few weeks but bring the money in and the children like them!
We organised a foreign coin collection which raised £85 and are looking to recycle more items this coming year (and may even get paid for some of it!). This goes hand-in-hand with PTFA trying to reduce single-use plastic by starting to switch over to fully recyclable paper cups and using coloured sugar in the Reindeer food instead of glitter.
Over the last year we have raised around £5000. We have bought microphones, a new school laminator, supported school pets and gardening club (which brightens up the school grounds), paid for coaches to the Music Festival, the Year 6 Leavers Party, given money towards Wow days and topic work, funded competition prizes, after-school club equipment, a clock for the dining hall, end-of-term parties and of course the ever popular inflatable assault course.
The Co-op fund has been spent on adding to the Fitness Trail in the playground – it has recently been finished and the children love it, queuing up to get on! We also got a games table – around £200 was saved compared with buying one from playground suppliers by ordering a picnic table and arranging for Graffic Detail to make a top. We installed it ourselves (thank you to Anne the caretaker) and would like to get more parents involved in practical help for school.
The new GDPR Data Protection rules came into effect this year which meant a bit of extra work for Jenni and me. But we managed to produce a PTFA Privacy Policy and we now have a fully consenting contact list! And regarding communications, we can now send notices and event flyers on school's Parentmail, which should be much easier and cheaper than sending paper versions (once the system is fully functional).
Looking forward, with a new school Head and new systems in the school office, there will be some changes for us in the coming months, but with our trusty team and some lovely, new volunteers, I'm looking forward to a new and bright year ahead for our PTFA.
Just before I finish, I would like to thank Neela Jackson for allowing us to use the Star Tree Studio for our meetings and the Con Club for giving us this room here tonight for our AGM. And of course to say a huge thank you to Jenni Cook, our secretary, who is standing down tonight after several years as a most valued member of the PTFA – we couldn't have managed without you!
Thank you
Jackie Barber, Chair

Newsletter
PTFA Autumn News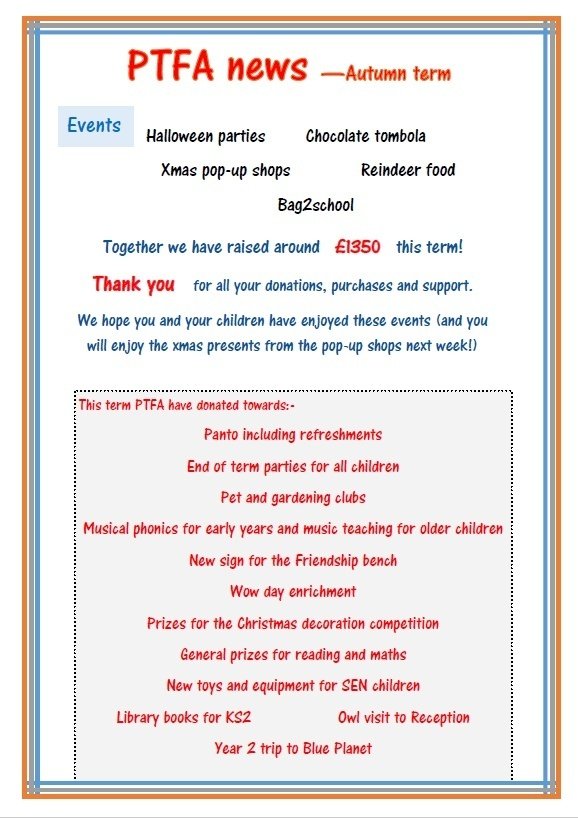 Events